Before we jump directly jump into the building process, let me first introduce with some terms which will help you to follow the tutorial as I move on. You will need to know these terms to build an app on Thunkable.
What is .aia file?
AIA file is the file that is compiled and you get it after you have created an app in Thunkable. It can be compred with the .apk file for Android but they are not same.
What is .aix file?
AIX file is an audio file used by video games, such as Project DIVA and Metroid. It contains one or more sound files, which may be used for sound effects, voice narratives, or soundtrack music, that are played at different stages in the game.
What is .ttf file?
A TTF file is a font file format created by Apple but used on both Macintosh and Windows platforms.
What are the blocks?
Blocks are the main building structures of the app in Thunkable. They are just the replacement of codes. Without them, the app will not work. Blocks have to be connected with logic. These blocks look like the fragments a puzzle.
I will go through building an Android app in Thunkable. You can also use Thunkable for building an iOS app.
Step 1: Signing up and understanding the Dashboard interface.
As it is pretty required for any service proving website to let the users sign up an account, Thunkable lets you sign up using Your Gmail account. As I have already mentioned you have two options to create an app. You can Sign into Thunkable Classic which only for Android app development and the new cross-platform Thunkable where you can develop an app for the both Android and iOS.
Now log into the account and create your first project. The project name is the name of the app. Click on Create New App and give a name to your app.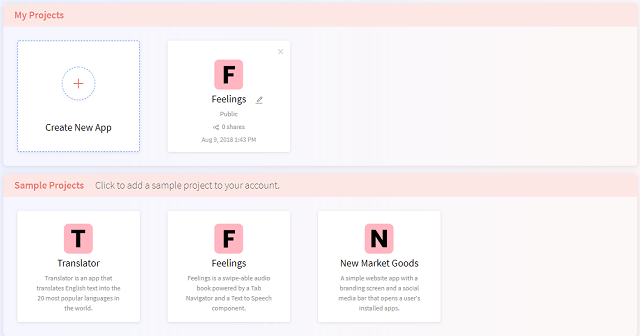 Next is to understand the Dashboard. You will see a mobile Phone like structure on one side and another side you will see the screens. This mobile Phone is the live representation of the progress of your app. This is cool, isn't it? We can say that this is similar to WYSIWYG editor.
On the top right corner, you will see a blue on off button to quick transit between the components and Blocks(which are the background codes to add functions to the components.
And these components can be the screens, images, buttons, text, ads or whatever component you want to add.
How to Insert AdMob ads in Thunkable?
I have already mentioned that Thunkable lets you monetize your app with ads. At present Thunkable supports ads only from AdMob.
Thunkable keeps 5% of the revenue you make from apps as a service provider. I would consider it is still a superb deal as you don't have to spend any money before you make money.
Adding AdMob ads in your app is very easy in Thunkable. If you have any prior experience with ads placement you will not find it difficult.
Every ad you created in AdMob has a number which is the ad unit ID number. You will need this ad unit ID number to successfully insert AdMob ads into an app.
On the down left corner side, you will get options for AdMob banners and Interstitials under Experimental. Choose the type of AdMob ads you want to implement. Now log into AdMob account and create an ad unit if you haven't created one before.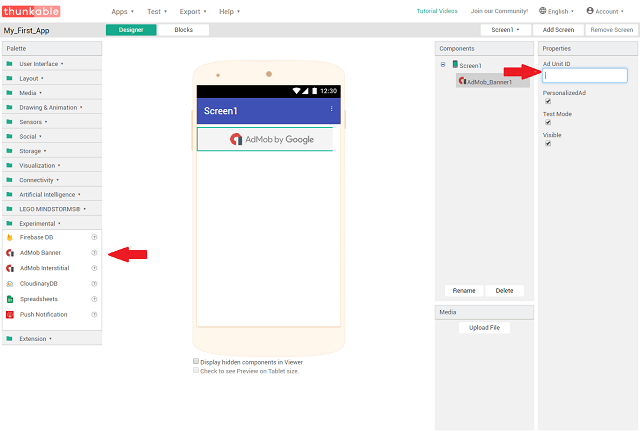 Copy the ad Unit ID Number and paste it. Now the front end work is finish. Move to the Blocks. You have options to create two different types of ad. Banner and Interstitial ads.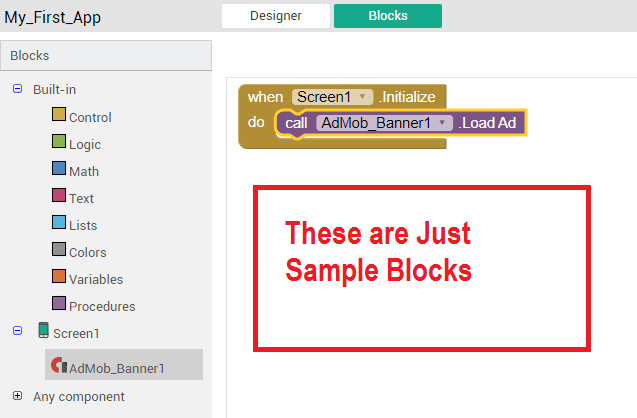 These are just sample blocks just to show you how you can insert an AdMob ad in Thunkable. With more advanced blocks and logic, you can set a timing for ads to refresh. You can also set the timing for interstitial ads to load.
The sad part of Thunkable is that it supports only AdMob ads. I hope in future updates they will surely enable monetization from other ad networks.
How to create a Home, Exit, Next buttons in Thunkable?
To create Home, EXIT and Next buttons you must first decide the number of screens you want to use. As these buttons should be in the perfect place, adjust accordingly.
A home button lets you to the first screen, the exit button closes the app and next button opens a new screen.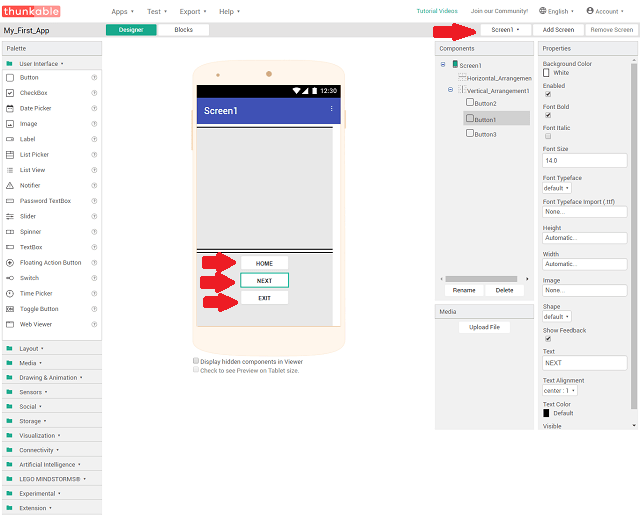 You can design it beautifully with color and images. The ability of Thunkable to create a professional app is not less than a premium software. If you give time to build the app with some designing skills it will look like a premium one.
The hard part is the blocks. It is very confusing and the best way to do is watching videos on YouTube. I have just created sample blocks do not take is an advanced level design.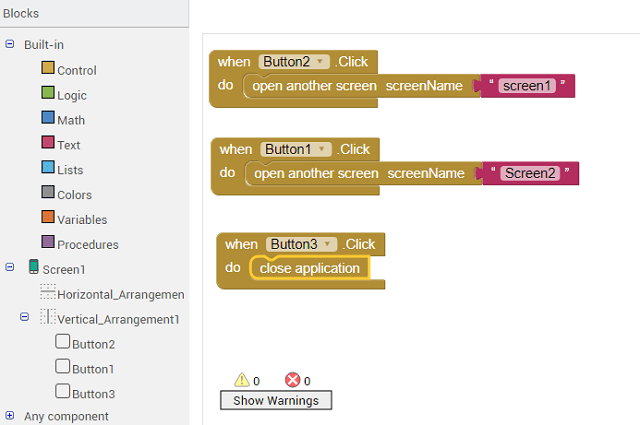 Each button Home, Next and Exit have some functions. To give functions to a component we have to build blocks. While you created a new screen or button do not forget to note the name of it. The name of the buttons like button1, button2, button3 are very important. Using the wrong names may lead to crushing of the app.
How to add multiple Screens in Thunkable?
In the fourth screenshot, I have shown clearly with a red arrow mark. If you click on there a drop down will be shown to create a new screen.
It is always better to have fewer screens. More the screens more the size of the app will increase. There is also a limitation on the number of screens you can use.
You can create an app with multiple pages just on a single screen. You will need to take help of horizontal and vertical layout component, you can make one component visible and another invisible at a time. One good thing about multiple screens is that it is easy to add blocks on them. If you keep on practicing with live app view on an emulator or using the official Thunkabe app you learn it quickly.
Thunkable Vs Appybuilder Vs Makeroid
Thunkable, AppyBuilder and Makeroid three of them are the same. They provide you the free platform for building apps. Three of them are based on MIT App Inventor Project.
The difference in them lies in their interface and their added features. I would recommend any one of them for learning to build an app by yourself.
Thunkable is best for any beginner to learn to build an app without any prior knowledge of coding. Of course, it has some limitations. Considering it is free and the functionalities it provides Thunkable's service cannot be underestimated.
They also have an active community where you can discuss anything on creating apps using Thunkable. If I would have to give star ratings I would have given it 4.5 stars out of total 5 stars.
AppyBuilder is nice evolved from the same original predecessor MIT app Inventor project as Thunkable. AppyBuilder has some added features like it supports monetization from Amazon and other ads.
I would rate it 4.2 out of 5 stars because of its crushing issues.
Makeroid supports more monetization platforms than Thunkable and it can be comparable to Thunkable. I would also rate it 4.5 out of 5 stars.
It is hardly matters which one you are using to build your first mobile applications. As all of them are same the way they work you will find difficult to jump from one to another.
Resources I Recommend to learn more about creating an app using Thunkable/AppyBuilder/Makeroid
Thunkable Community where you can ask any question related to Thunkable-
https://community.thunkable.com